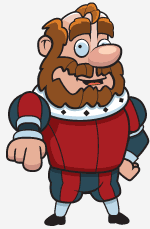 Loaded Kings - The Drinking Game Rules
Similar to Kings Cup, Ring of Fire, and Circle of Death, Loaded Kings is best enjoyed with three or more people.
Begin by spreading all 52 cards (54 if you are using the Jokers!) face-down in the middle of a table.
Choose a person to go first and continue turning over cards in a clockwise rotation, following the directions on each card.
Drink!

Note: Each "drink" refers to 1 sip or gulp.